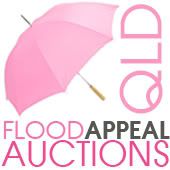 from Two Bits Patches



This I Spy baby quilt is being auctioned on behalf of the Queensland Flood Appeal. The quilt measures 63 x 85 cm (25 x 32 inches) so it's just right for baby's cot or in the pram on chilly mornings. The 100% cotton fabric features lots of animals - cats and cows, fish and frogs, kangaroos and cockatoos. The quilt is machine pieced and quilted, and machine washable. Retail value is $80.
Here's how the auction works: The bidding starts at $A10. Leave a comment on the blog with the amount of your bid. It makes sense to bid higher than the previous post. You'll need to leave an email address so you can be contacted, too.
The auction finishes on Monday 24th January at midnight Australian Eastern Daylight time. The highest bidder is the winner.

The winner then sends the amount of their winning bid to the Premier's Flood Appeal. Email me with your receipt number and I will post the quilt straight to your home. I will pay postage to anyware in Australia; if posting overseas I will get a quote for postage and we'll split the amount 50/50.
There are many, many more auctions: you can find the whole list
here
.